—–
Punahou's reward for upending Mililani 52-24 on Friday night is something the Buff 'N Blue have been waiting more than two months for— a rematch against OIA champion Kahuku.
Aside from some defensive lapses in the third quarter, the momentum was on Punahou's side from start to finish on Mililani's home field in the Open Division semifinals of the First Hawaiian Bank/HHSAA Football State Championships.
Up next for the ILH champion Buff 'N Blue (9-1) are those Red Raiders (11-2) from the North Shore in the state title game next Friday. On Sept. 3 in a nonleague game on Kahuku's home field, Punahou held a 7-point fourth quarter lead before succumbing 27-20.
"We've got one more game," said Punahou linebacker GianCarlo Rufo, who contributed with a forced fumble Friday as well as four tackles for loss including two sacks among his six stops. "We're excited to be here, but it's not something we didn't expect. Gotta get to work. Film tomorrow and we're moving on to play Kahuku."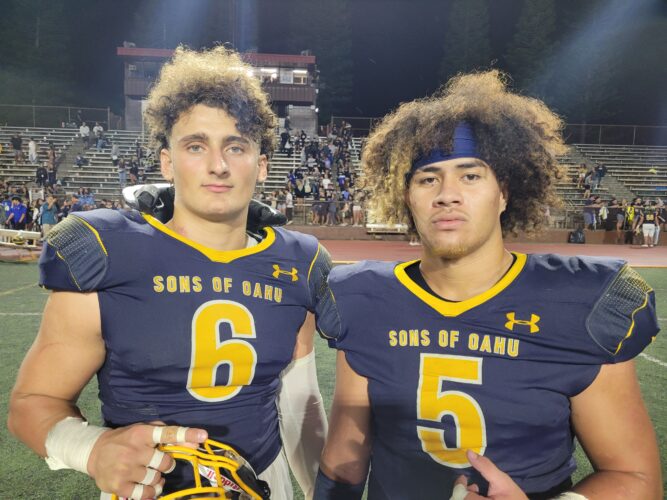 Behind the hard running of Alai Williams and a hound-dog defense also got nine tackles from Alika Cavaco-Amoy, Punahou pulled away for a 31-10 halftime lead and finished strong after some third quarter hiccups.
"It was an overall contribution from everyone, from our defense having a lot of stops on third down and getting us good field position to our offense executing very well today in the run game and passing," said Williams, who finished with 237 yards rushing on 29 time-consuming carries and scored on runs of 10, 12, 25 and 78 yards.
The Buff 'N Blue found success through the air, too, with Noah Macapulay catching two John-Keawe Sagapolutele TD passes for 20 and 11 yards. In addition, Christian Kauhane was the recipient of a Sagapolutele 23-yard TD pass.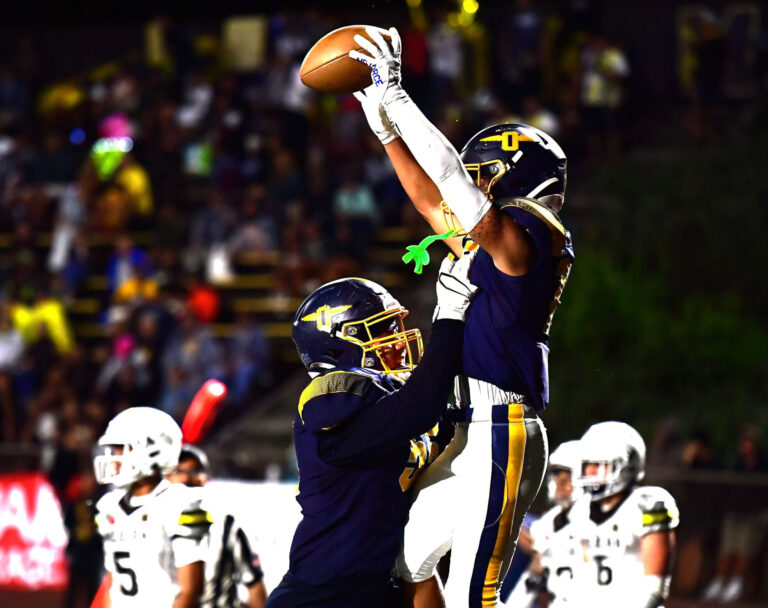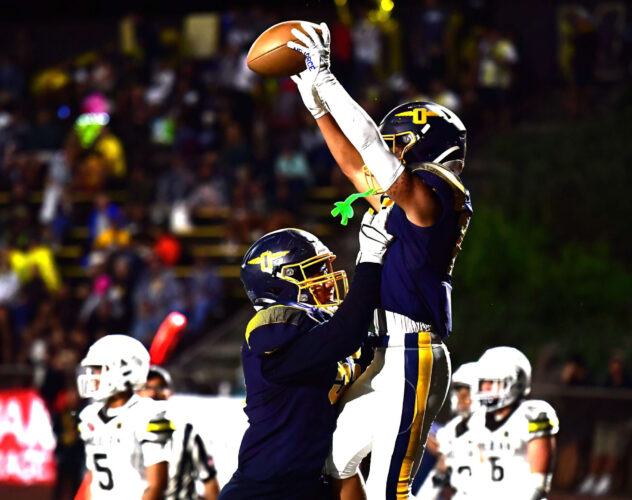 For the OIA runner-up Trojans (7-5), who made a solid third quarter comeback bid, the season is done. In the second quarter, Raymond Roller turned Emana Tarape's short pass against Punahou's all-out blitz into an 87-yard catch-and-run TD.
Then, in the Trojans' third quarter surge, Tarape connected with Onosai Salanoa for a 59-yard score and also hit Gavin Hunter for a TD from 13 yards out before tossing a 2-pointer to Roller to bring Mililani in striking distance, 38-24, entering the final quarter.
But it was Williams, behind a bulldozing line led by Tui Muti, who closed the door with those exclamation point TD runs of 25 and 78 yards.
"It all starts with them (the offensive line), having their assignment tight and just leading the way," Williams said. "They pick me up every time I'm on the ground and they really step up with their leadership."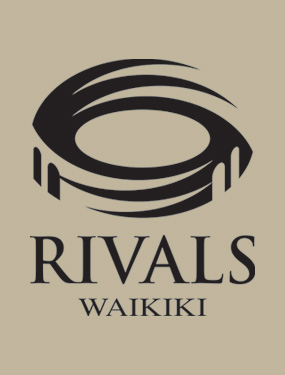 —–
ALSO AT BedrockSportsHawaii.com:
Kahuku Is An Interception Machine In 32-7 Elimination Of Campbell In Open State Football Semifinals