—–
FOCUS ON FOOTBALL
—
A column by Nick Abramo
—
This "Focus On Football" column is not where you'll find game stories, previews or  the typical features. This is more of a catch-all place for the sights and sounds, impressions and overheard things out in the field while covering the colorful world of high school football.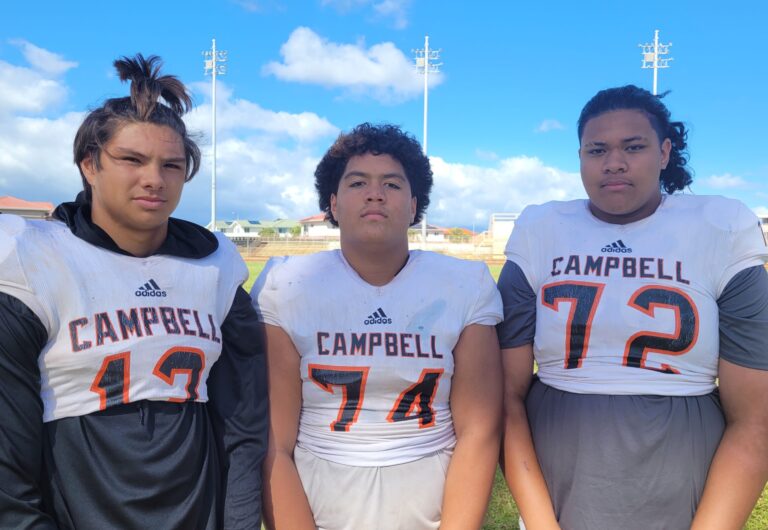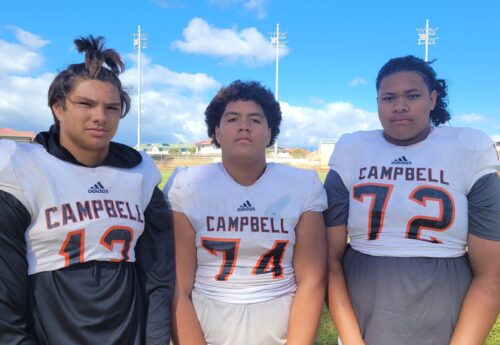 I did a good amount of traveling around Oahu last week, catching up with a bunch of teams as they prepare for the season that kicks off Thursday Aug. 5, at Skippa Diaz Stadium. That's when the Farrington Governors host the Waialua Bulldogs in a nonleague game.
Yes, the season is just five days away and it begins where the last one — a memorable 2021 campaign — left off at the Farrington High site that's right next to the H-1 in Kalihi, where the Kahuku Red Raiders, 'Iolani Raiders and Kapaa Warriors became the three divisional state champions in December.
DJ Sends Over The Big Boy First
As if to make a quick statement, Campbell Sabers coach Darren Johnson showed that his team has "grown" in the last year as soon as he had the chance after my arrival at the Sabers' field for practice on Tuesday.
I asked for the coach to send over groups of three players each to the sideline for some preseason photos. He obliged, and in that first group he sent was … wait for it …
The 6-foot-7, 320-pound senior tackle Isaac Maugaleoo!!!
You are reading that height and weight right. The dude is a transfer from the Northside Christian Mustangs in St. Petersburg, Florida.
If you are wondering if he's a solid player, check this clip from last season: http://www.hudl.com/v/2ExJ8m.
Maugaleoo's presence on the team and the protection he is expected to provide has put a smile on the faces of Sabers quarterbacks Chayne Kuboyama-Hayashi and Jaron-Keawe Sagapolutele.
For the fun of seeing the height that Campbell possesses, DJ — most likely totally on purpose — sent two other tall guys over in that first group with Maugaleoo — 6-5, 210-pound senior wide receiver Kamaehu Kopa-Kaawalauole and 6-4, 290-pound junior offensive tackle Joshua Tavui.
And aside from Kopa-Kaawalauole, there's another big target at wide receiver this season for the Sabers — the 6-foot-5, 210-pound Mason Muaau, who, along with Sagapolutele, is a transfer from the Saint Louis Crusaders.
Size, of course, isn't everything, but it could help a team like Campbell immensely. For years, the Sabers have been knocking on the door of state Open success.
One year ago, the Sabers made it to the state Open semifinals and gave it a go against eventual state champion Kahuku, succumbing 21-0.
In 2019, a year before the wiped out 2020 COVID-19 season, Campbell came even closer, dropping a 21-19 decision to Kahuku in the state semis.
Six Points
At the end of every "Focus On Football" column, I will try to leave you with six points of news, opinion or analysis for reflection:
1)
>> The McKinley Tigers and Waialua Bulldogs will not field junior varsity teams this year, and the Kaiser Cougars and Kalaheo Mustangs are in the process of determining whether they have enough players to field JV squads.
2)
>> Farrington will be playing against two mainland teams this year — at home against the Newport Harbor Sailors from Newport Beach, California, on Aug. 18 and at the McMinnville Grizzlies of McMinnville, Oregon, on Sept. 2. According to one of the Kamehameha Warriors' athletic directors, Reggie Torres, Farrington looks like a highly competitive bunch this season, judging by what he saw in summer 7-on-7s. After finding the going tough in the Open Division the last few seasons, the Govs dropped to D-I, where they could be immediate contenders.
3)
>> Kahuku is gearing up for its historic first game on the school's new artificial turf field. No chance of mud, uneven grass or potholes now. There's no question that coach Sterling Carvalho and his players are overjoyed. On Friday, Aug. 5, the whole town will be celebrating the official unveiling of the new field in a big game against visiting Kamehameha.
4)
>> The defending OIA Division I champion Aiea Na Alii appear to be loaded on the defensive side of the ball. Not only is top defensive back Bishop Foumai back, but defensive end Logan Rouse — who caused immense havoc in the 21-0 state D-I semifinal loss to 'Iolani a year ago — returns. On top of that, defensive tackle Sila Unotoa appears to be primed for the season. On a social media video post of his sack in a scrimmage against the Waianae Seariders during the week, he wrote, "Let's eat!"
Unotoa's video tweet:
Let's eat! @CoachRudyG @KelleyBeMoore @CoachNansenUofA @Brettarce84 @CoachCaughman @CoachTimmyChang @nastin808 pic.twitter.com/GWkleTtW4R

— Sila Unutoa (@SilaUnutoa) July 30, 2022
5)
>> In 2019, the Molokai Farmers — an MIL 8-man football club — came to Oahu and lost an 11-man game to the Nanakuli Golden Hawks, 37-0. The Farmers will be back on Oahu this year to play an 11-man game at Waialua on Sept. 10. According to the Molokai Dispatch, the Farmers hadn't played an 11-man football game in more than 50 years before that 2019 contest.
6)
>> Punahou Buffanblu coach Nate Kia confirmed that his team's originally scheduled game at the Orem Tigers (Orem, Utah) on Sept. 9 has been canceled.
—–
ALSO AT BedrockSportsHawaii.com:
After Fishing All Offseason For More Games, Saint Louis Coach Ron Lee Lands Kapaa As An Aug. 13 Opponent On Kauai