—–
You have to go way back to find the last time King Kekaulike appeared in the Division II title game of the First Hawaiian Bank/HHSAA Football State Championships.
The history book shows Na Alii won it all in 2006. On Saturday, the Maui school will make its return to the big game, 16 years later.
A search for any D-II state championship game appearance for the opponent on the other side of the field, the Waimea Menehunes, yield no results. Despite some top-tier success at the state tournament level (see list of previous state tournament games by both teams below) in the early part of the century, Waimea's history as a dominant KIF football program began to fade. As it stands, before this season, the Menehunes' last appearance at states came in 2003.
One of these teams will break through for the koa trophy after years of waiting. Kickoff on Saturday is 4 p.m. at the Mililani High field.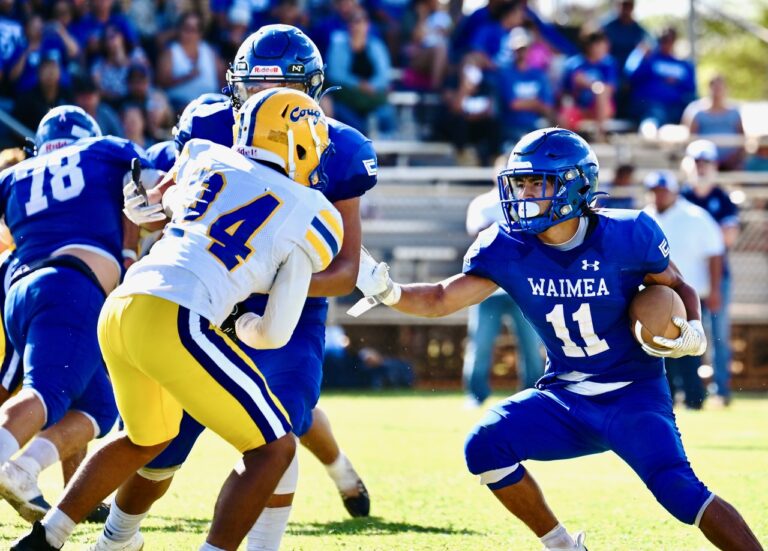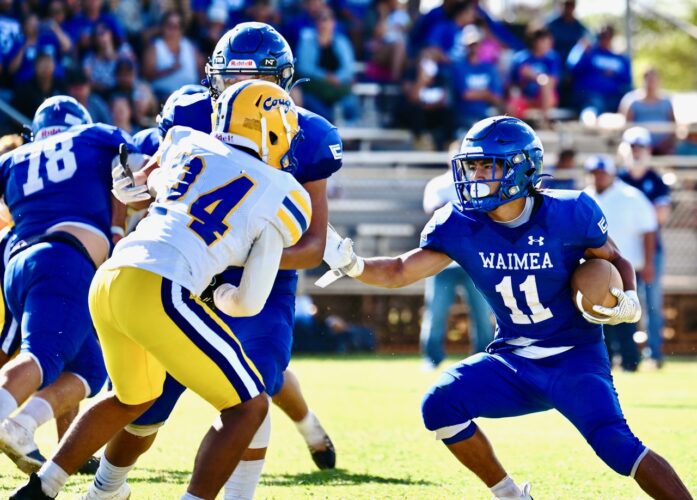 According to both head coaches — Tyson Valle of King Kekaulike (5-6) and Kyle Linoz of Waimea (8-2) — the anticipation is high on their campuses and in their respective communities.
"Everywhere we go, we see (fans wearing) blue," Linoz told Bedrock Sports Hawaii. "We're bringing half the island (of Kauai) over."
Added Valle: "The vibe in school is that people are excited, the faculty and staff, and I keep hearing about more and more people planning to go over to see the game."
As for what to expect on the field, it's a good bet that it will be a straight-forward affair with an emphasis on ball control and defense, with turnovers looming large.
"We're going to line up and go straight down the pipe," Linoz said, "It's not too complicated."
Aukai Emayo, who rushed for 230 yards and three touchdowns in a 48-7 first round win over Kaiser two weeks ago, and Kaili Arakaki (seven TDs this season) lead the Menehunes' attack.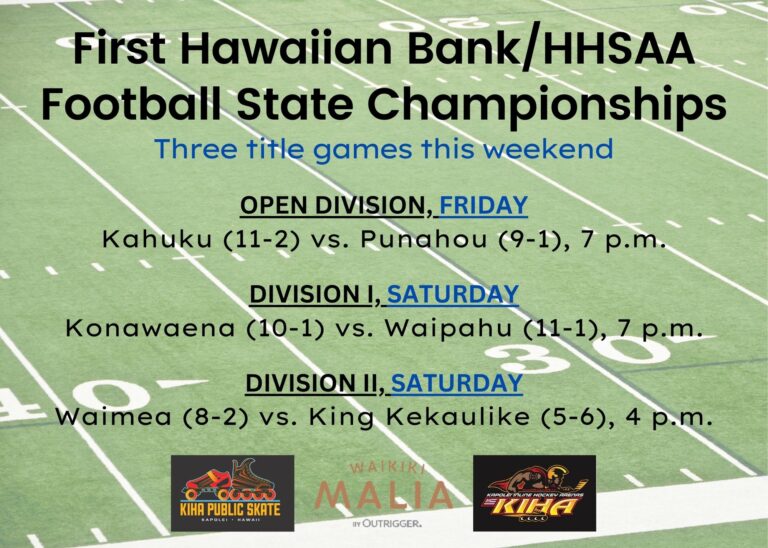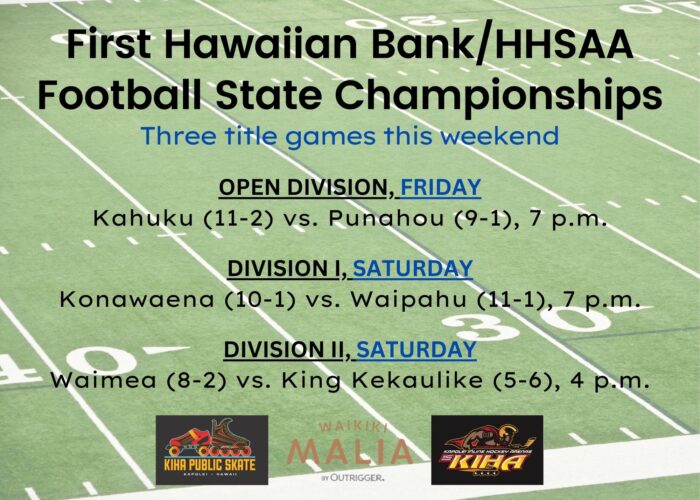 King Kekaulike made its mark this season on the ground, too, with Kalelepono Wong (847 yards rushing, 12 TDs) and Tysin Zackious (831 yards, seven TDs) as the main ball carriers.
"Waimea is relentless on defense and running the ball," Valle said. "But we believe we'll have opportunities to move the ball. We want to get our ground game established early."
In August, the Menehunes made the trip over to Maui and defeated Na Alii 21-10 in a nonleague game. Valle and Linoz agree that both teams have improved dramatically since then.
"We will definitely recognize each other from that first meeting," Linoz said. "But both teams are different now. I think it will be anybody's game, with the team making the least mistakes and executing their plan winning. To me, it's as even as you can get. This is going to be a tough game coming up."
Said Valle: "We've been watching how Waimea does the whole season and we've been talking about how funny it would be to see them in the state tournament. And boom, here we are. We're anxious to play the game already."
Waimea Menehunes At The State Tournament (1999-Present)
1999
Quarterfinals
Nov. 19, 1999
>> Waimea 20, Kailua 18, at Vidinha Stadium
Semifinals
Nov. 26, 1999
>> Saint Louis 56, Waimea 0, at Aloha Stadium
2000
Quarterfinals
Nov. 17, 2000
>> Kahuku 43, Waimea 17, at Aloha Stadium
2001
Quarterfinals
Nov. 16, 2001
>> Waimea 41, Castle 20, at Vidinha Stadium
Semifinals
Nov. 23, 2001
>> Kahuku 21, Waimea 7, at Aloha Stadium
2002
Quarterfinals
Nov. 22, 2002
>> Waimea 24, Kailua 21, at Vidinha Stadium
Semifinals
Nov. 29, 2002
>> Saint Louis 51, Waimea 0, at Aloha Stadium
2003
Division II Semfinals
Nov. 28, 2003
>> Damien 17, Waimea 13, at Vidinha Stadium
2022
Division II First Round
Nov. 12, 2022
>> Waimea 48, Kaiser 7, at Hanapepe Stadium
Division II Semifinals
Nov. 19, 2022
>> Waimea 17, at Honokaa 0
King Kekaulike Na Alii At The State Tournament (1999 to present):
2006
Division II Semifinals
Nov. 24, 2006
>> King Kekaulike 38, 'Iolani 37, at War Memorial Stadium
Division II Championship Game
Dec. 1, 2006
>>  King Kekaulike 38, Kauai 20, at Aloha Stadium
2022
Division II Semifinals
Nov. 19, 2022
>> At King Kekaulike 20, Nanakuli 0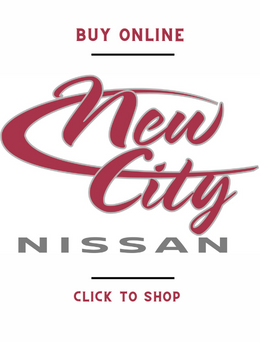 —–
ALSO AT BedrockSportsHawaii.com:
Konawaena's Nakoa Ige Is Bedrock Sports Hawaii's Outstanding Football Player Of WEEK 16
Neighbor Islands Have Quite A Day In High School Football: Konawaena, Waimea, King Kekaulike Advance
Kale Ane's Departure From The McKinley Job Brings Total Of Hawaii High School Football Coaching Vacancies To Four
—–
The Season As It Unfolds: