—–
Konawaena had not attempted a field goal all season until the Wildcats' most important game to date.
The team lined up for a 33-yard field goal at the end of the first half last Saturday against Aiea and it turned out to be successful.
But the next time a field goal attempt was needed was way more important. Only seconds remained in the fourth quarter with the clock stopped as the Konawaena field goal unit went on to the field. Would kicker Nakoa Ige go 2-for-2?
For sure. Ige kicked it right between the goalposts as time ran out to give the Wildcats a 27-24 victory at home over Na Alii in the Division I semifinals of  the First Hawaiian Bank/HHSAA Football Championships. That big moment earned Ige Bedrock Sports Hawaii's outstanding player of WEEK 16 honor.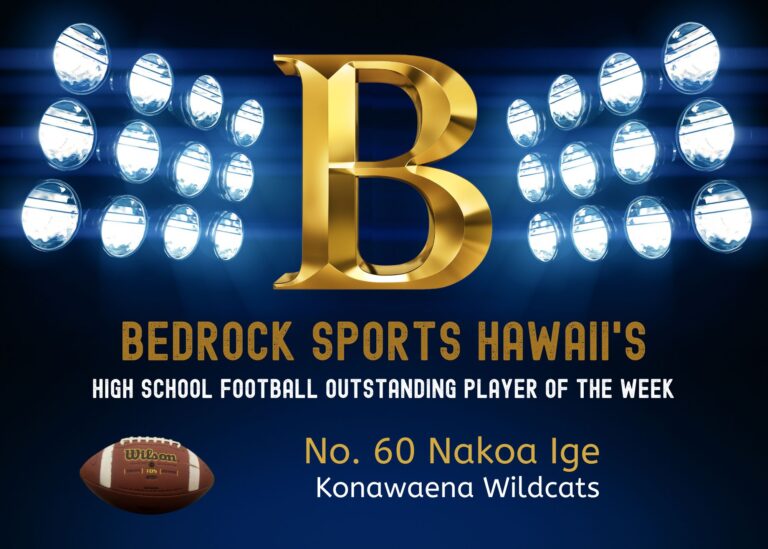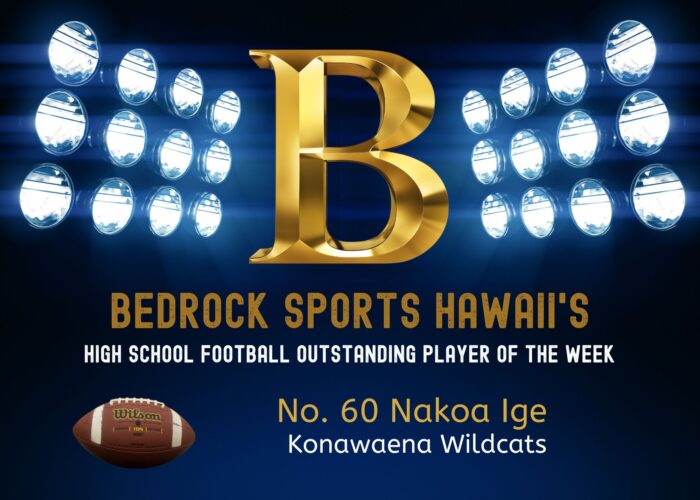 Honolulu Star-Advertiser reporter Billy Hull captured the winning field goal on video and posted it on Twitter:
IT'S OVER. NAKOA IGE FROM 20 YARDS AWAY. KONA IS IN THE FINAL. pic.twitter.com/eGXT2ieHNf

— Billy Hull (@billyhull) November 20, 2022
Now, Konawaena (10-1) is one win away from bringing home the school's first koa trophy. The Wildcats meet Waipahu (11-1) on Saturday with the title on the line.
"That was his second field goal try all season," Konawaena coach Brad Uemoto said. "He did it. That's crazy."
Teammate Ro'onui Satta-Ellis, a wide receiver and defensive back, gave Bedrock his thoughts on Ige's clutch kick.
"He (Ige) is one of the premier linemen and kickers in the state," Satta-Ellis said. "He was money during warmups, 30, 40, 45. Before the kick, we all put the number 5 in the air to ask Maui for guidance. Nakoa and the pancake crew (up front) deserve all the love. Na Alii gave us licks. We are all tending to our wounds."
Satta-Ellis was in a similar situation for the Wildcats in October 2021, kicking the winning 32-yard field goal in overtime to beat defending D-I state champion Hilo in a regular season game. For that kick, Satta-Ellis was named Bedrock's outstanding player of the week.
Story links for this season's previous Bedrock outstanding players of the week are below.
>> WEEK 15: PAC-5's Blade Kaululaau Is Bedrock Sports Hawaii's WEEK 15 Outstanding Football Player (Nov. 16)
>> WEEK 14: No games
>> WEEK 13: After Kicking The Title-Winning Field Goal, Kapaa's Christopher Rapozo Is Bedrock's WEEK 13 Outstanding Football Player (Nov. 4)
>> WEEK 12: Damien's AJ Tuifua Is Bedrock's Outstanding Football Player For WEEK 12 (Oct. 27)
>> WEEK 11: Bedrock's Outstanding WEEK 11 Football Player Kayman Lewis Of Roosevelt Finishes High School Career In Style (Oct. 20)
>> WEEK 10: Campbell sophomore Quarterback Jaron-Keawe Sagapolutele Is Bedrock's Outstanding Football Player Of WEEK 10 (Oct. 13 )
>> WEEK 9: Aiea Junior Quarterback Ezekiel Olie Is Bedrock's Outstanding Football Player of WEEK 9 (Oct. 6)
>> WEEK 8: A 'Tama-Of-All-Trades': Waipahu's Uiliata Can Throw, Too, And Is Bedrock's Outstanding Player Of WEEK 8 (Sept. 30)
>> WEEK 7: 'Iolani Kicker Allison Chang Is Bedrock Sports' Outstanding Player Of WEEK 7  (Sept. 4)
>> WEEK 6: Radford's Michael Hayslett Is Bedrock Sports Hawaii's Outstanding Player Of WEEK 6 (Sept. 14)
>> WEEK 5: Kamehameha-Hawaii's Michael Perry Is 2022's Third Football Player Of Week From Big Island (Sept. 8)
>> WEEK 4: Mililani Cornerback Jordan Fetu Is Bedrock's Outstanding Player Of WEEK 4 (Sept. 1)
>> WEEK 3: Honokaa's Uhane Mock Chew Is Second Straight Player Of the Week From The BIIF (Aug. 25)
>> WEEK 2: Keaau's Diego Pettypool Selected As Bedrock Sports Hawaii's Player Of The Week (Aug. 17)
>> WEEK 1: Mililani's Jabiel Lauvao Is First Bedrock Football Player Of The Week In 2022 (Aug. 10)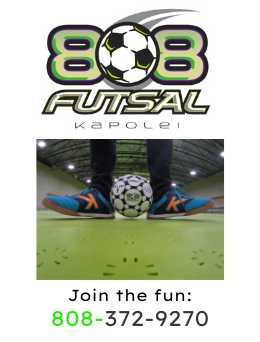 —–
ALSO AT BedrockSportsHawaii.com:
Neighbor Islands Have Quite A Day In High School Football: Konawaena, Waimea, King Kekaulike Advance
Kale Ane's Departure From The McKinley Job Brings Total Of Hawaii High School Football Coaching Vacancies To Four
—–
The Season As It Unfolds: