There will be no cake. No real celebration, other than the knowledge that one year is in the books for BedrockSportsHawaii.com and a notice of that observation right here. And also, Happy Cinco de Mayo!!!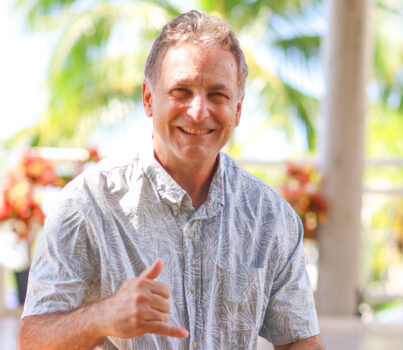 Bedrock Sports Hawaii owner Nick Abramo wishes readers a
Happy Cinco de Mayo and marks the one-year anniversary
of the start of the website. (Image credit: Astrategy Marketing).
Throughout the day — May 5, 2021 — BedrockSportsHawaii has put up a bunch of new content, including live reporting from the ILH golf championships at Pearl Country Club.
>> Punahou's Shayna Lu And Hawaii Baptist's Joshua Hayashida Are ILH' Golf Champions For 2021
>> Kamehameha Awarded N0. 1 Seed In ILH Baseball Tournament
>> DOE: Pylon Football Teams' Trips To Mainland Lead To Multiple Cases of COVID-19 in Hawaii
>> WATCH: Saint Louis Pitcher Caleb Lomavita's 13th 'Iolani Strikeout Victim
Also, one night earlier, on Tuesday, Bedrock Sports Hawaii was there at Hemmeter Fieldhouse on the Punahou campus to report on the ILH boys and girls volleyball championships:
>> Deep State: Kamehameha's Girls Volleyball Approach Delivers Another ILH Championship
>> Punahou Is Plenty In 'Tune' For First ILH Boys Volleyball Championship Since 2018
Over the next year and beyond, BedrockSportsHawaii.com (along with sister site BedrockSportsMarlboro.com) hopes to continue to provide quality stories and opinion on sports — with a sliver of pop culture. We want to make it a go-to place for readers of quality journalism.
We certainly do appreciate the readership and support from our sponsors and paid advertisers, and we are looking for new businesses that may be interested in partnering with us to support Hawaii's local athletes and sports teams.
Watch the video below of Bedrock Sports Hawaii owner Nick Abramo thanking the website's partners who have come aboard with help within the last year.
Also, for some insight into our readership numbers, we give you a McDonald's-inspired screenshot of the number of pageviews recorded at the two websites by Google Analytics from May 5, 2020, to April 13, 2021.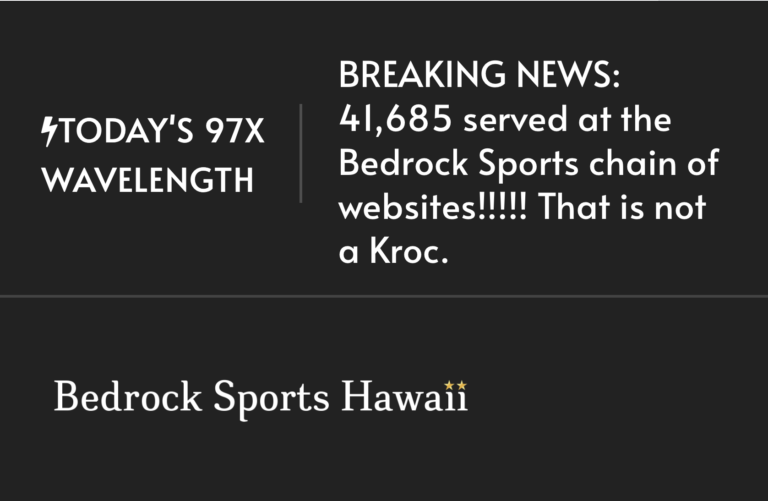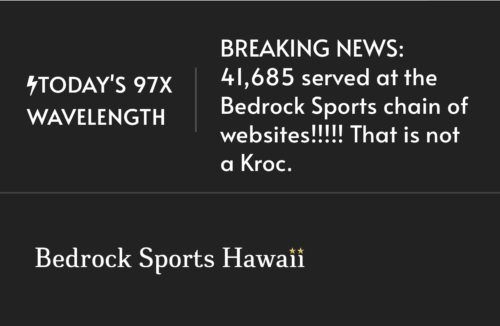 Interested partners or businesses who want to support Hawaii athletics by advertising with Bedrock Sports can call Nick Abramo at 808-391-7371 or email him at [email protected].