—–
This particular kicker has a bunch of attributes:
To name a few: great teammate, clutch, accurate.
The way 'Iolani coach Wendell Look described it: "A valuable member of the team."
If you go down the list of Chang's traits, sooner or later you will find "female."
Yes, indeed, Raiders senior Allison Chang is Bedrock Sports Hawaii's outstanding football player of WEEK 7 and it has NOTHING TO DO with the fact that she's a girl.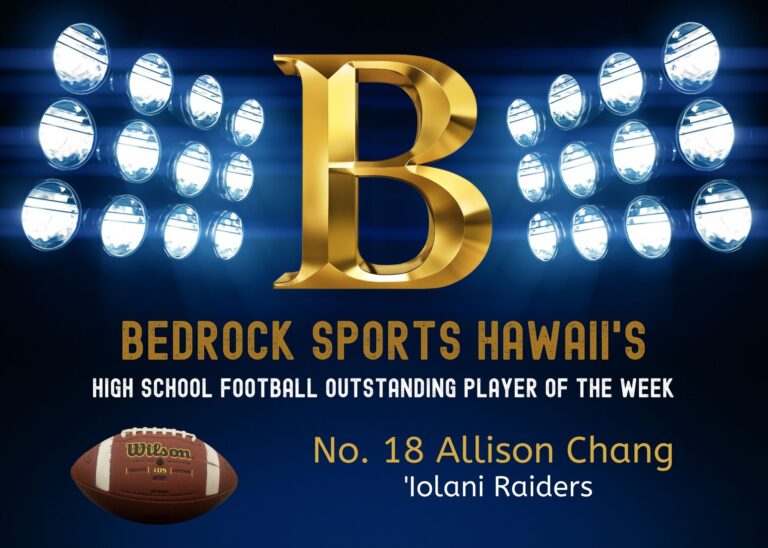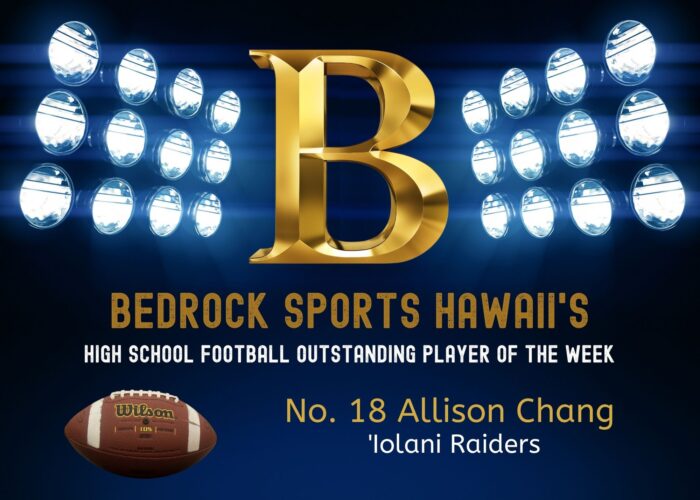 Chang gave 'Iolani a 13-12 victory in a crucial matchup against league rival Damien with a 24-yard field goal with just 1:41 left. Earlier in the game, she hit from 26 yards and added an extra point.
"Everybody has a role on the team," Look said. "Her role is to make sure she puts kickoffs in the right spot and puts the ball between the goalposts when we call on her. Her accuracy is not by chance. She spends a lot of time working on it every day. The whole field goal team, we tell them that any time they go on the field, it's points, whether it's 3 or 1."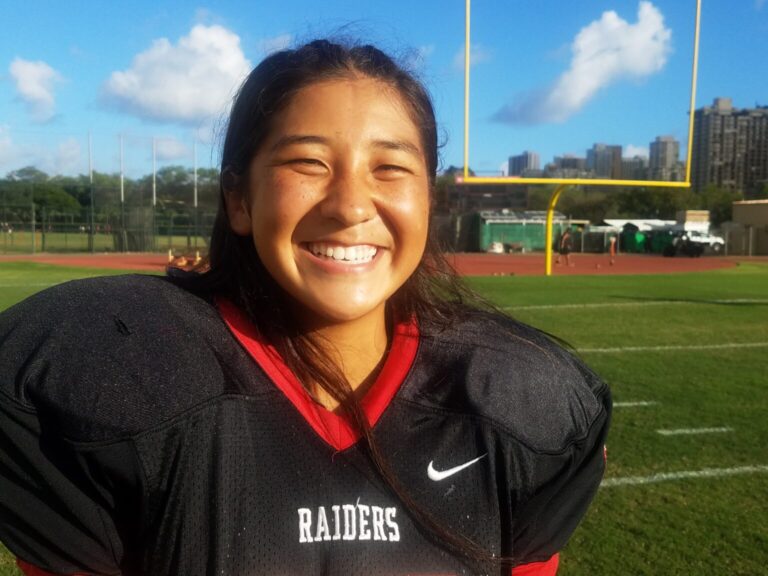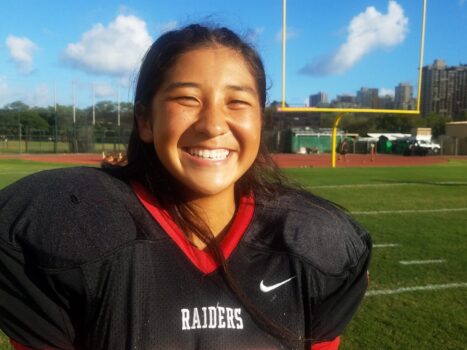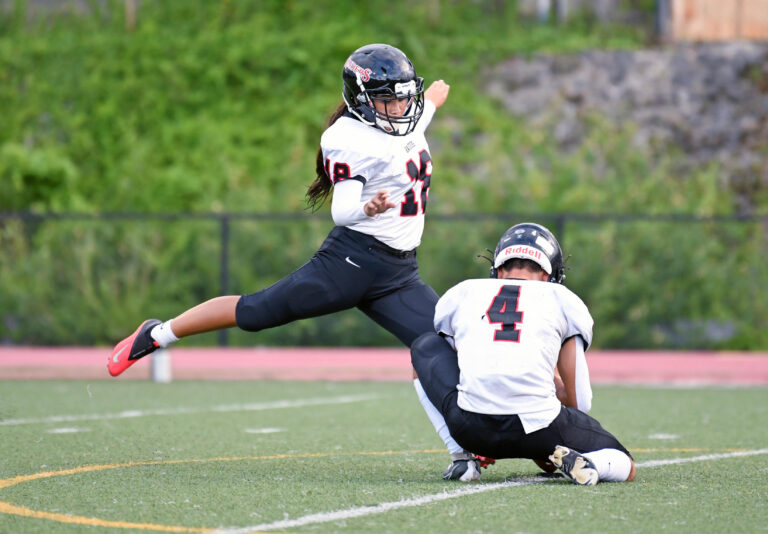 There are some seasons that 'Iolani has rolled to the league championship. This year, Damien has shown it intends to compete heartily for the title. The fact that the run to a possible title looks to be harder this year puts even more importance on Chang's field goal in the late minutes.
With the victory, the Raiders improved to 5-0 overall and 1-0 in the league, with games against Punahou II and Kamehameha II coming up.
On Oct. 7, the Raiders will be at home against the Monarchs (2-2, 0-1) with a chance to clinch the league's D-II title. A Damien win in that game would force one or two more games to settle it.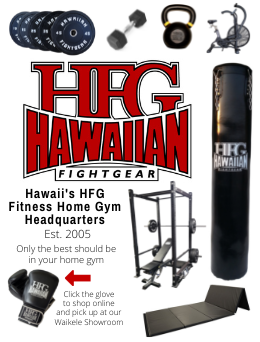 Here's a list of other Bedrock honorees this year:
>> WEEK 6: Radford's Michael Hayslett Is Bedrock Sports Hawaii's Outstanding Player Of WEEK 7 (Sept. 14)
>> WEEK 5: Kamehameha-Hawaii's Michael Perry Is 2022's Third Football Player Of Week From Big Island (Sept. 8)
>> WEEK 4: Mililani Cornerback Jordan Fetu Is Bedrock's Outstanding Player Of WEEK 4 (Sept. 1)
>> WEEK 3: Honokaa's Uhane Mock Chew Is Second Straight Player Of the Week From The BIIF (Aug. 25)
>> WEEK 2: Keaau's Diego Pettypool Selected As Bedrock Sports Hawaii's Player Of The Week (Aug. 17)
>> WEEK 1: Mililani's Jabiel Lauvao Is First Bedrock Football Player Of The Week In 2022 (Aug. 10)
—–
Updated standings, all of the 2022 scores and stories, a master schedule, the Power 5s, and more: