—–
It was obvious in the season opener that Waipahu's Liatama Uiliata is a do-it-all kind of player.
On Aug. 12 in a 36-25 win over Leilehua, he had 10 catches for 228 yards and a touchdown. And he also intercepted two passes, returning one  79 yards for a TD late in the game to seal it.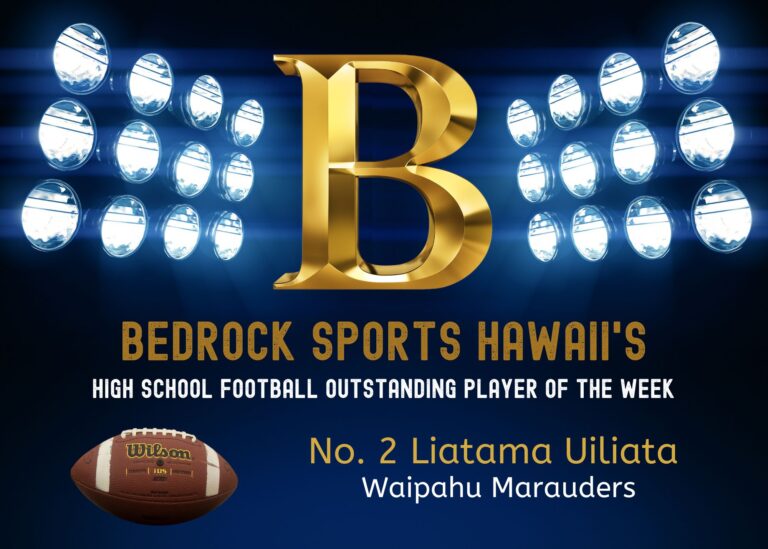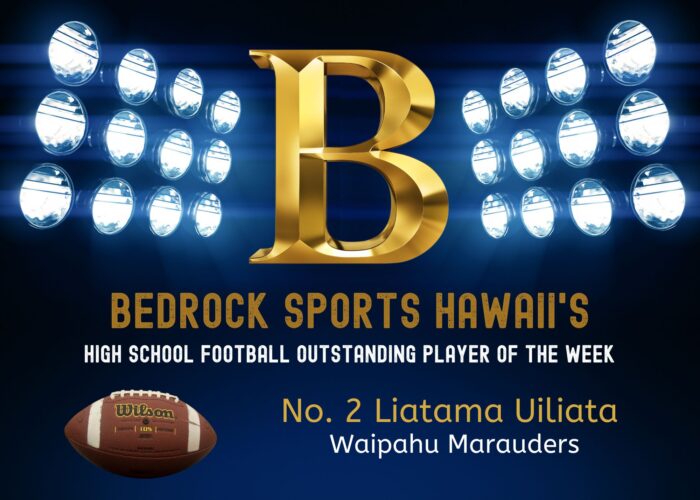 Last Friday, the Marauders' two-way star showed he can do something else, too — throw.
When steady starting quarterback Joshua Manu went down with a knee injury, Uiliata stepped up to play the position and went 18-for-21 for 260 yards and three touchdowns with no interceptions in a 59-24 home win over Roosevelt.
In addition to his passing output, Uiliata added 94 rushing yards and another three TDs on the ground, making him a true jack-of-all-trades, or, if you will, a Tama-of-all-trades.
"I was hoping he would get back up," Uiliata told ScoringLive.com's Brandon Ching after the game about Manu. "It tore me down watching him getting carried off the field. I trusted and depended on him. Him being out, looking like the rest of the season, it tears me apart knowing I won't be able to play with him the rest of my senior year."
Due to his big-time performance, Uiliata is Bedrock Sports Hawaii's outstanding player of WEEK 8.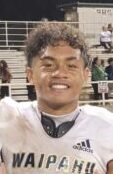 Manu's injury is a big blow to Waipahu (5-1, 4-0 OIA Division I), which sits atop the league standings. The Marauders will try to keep the train moving forward on Friday at Castle (1-5, 1-2).
Read Hawaii Sports Radio Network's Sept. 2 story about Uiliata and his cousin, Kapolei quarterback Liatama Amisone, here: Two Kids Named 'Tama' Explode Onto The Hawaii High School Football Scene At Waipahu And Kapolei.
Here's a list of other Bedrock honorees this year:
>> WEEK 7: 'Iolani Kicker Allison Chang Is Bedrock Sports' Outstanding Player Of WEEK 7
>> WEEK 6: Radford's Michael Hayslett Is Bedrock Sports Hawaii's Outstanding Player Of WEEK 6 (Sept. 14)
>> WEEK 5: Kamehameha-Hawaii's Michael Perry Is 2022's Third Football Player Of Week From Big Island (Sept. 8)
>> WEEK 4: Mililani Cornerback Jordan Fetu Is Bedrock's Outstanding Player Of WEEK 4 (Sept. 1)
>> WEEK 3: Honokaa's Uhane Mock Chew Is Second Straight Player Of the Week From The BIIF (Aug. 25)
>> WEEK 2: Keaau's Diego Pettypool Selected As Bedrock Sports Hawaii's Player Of The Week (Aug. 17)
>> WEEK 1: Mililani's Jabiel Lauvao Is First Bedrock Football Player Of The Week In 2022 (Aug. 10)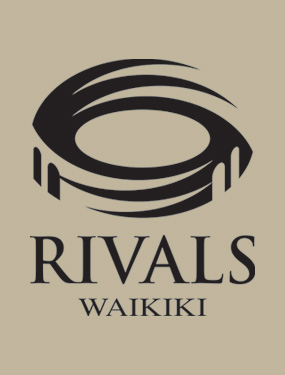 —–
Updated standings, all of the 2022 scores and stories, a master schedule, the Power 5s, and more: 
ALSO AT BedrockSportsHawaii.com:
Nanakuli Zooms To No. 1 Ranking In Bedrock's Division II Power 5; Kaiser Jumps Into Rankings