Surprises abound when you open your eyes.
As a journalist for the Honolulu Star-Advertiser from 2000 to 2020, my scope was relatively narrow. Focused is another word. High school sports, surfing, occasionally UH football. Plenty desk duties. Great job!!!!!!!!! And unbelievably fortunate to be there. But I did not have the luxury of writing about many amazing subjects the sports world has to offer.
The story you're reading now combines three subjects I haven't had the chance to write about much. Here's the brief list of what this is going to be about:
Big-box store customer service

Patience

University of Hawaii men's volleyball
Let's be clear, though: When you've got Cindy Luis and Stephen Tsai handling coverage of No. 3 at Hawaii's metropolitan daily through the years — true professionals is the best term for both — there was never a need for me to dabble there.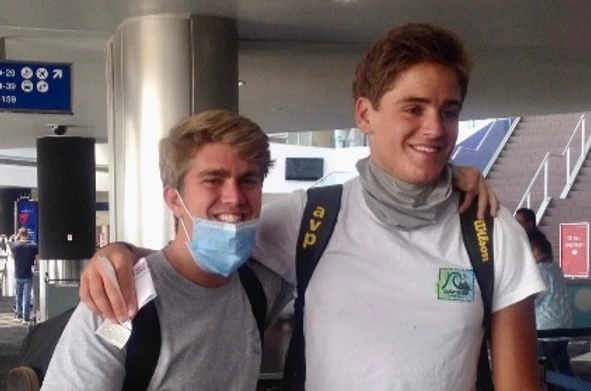 So, how do these three things combine for today's narrative? About a week after I was furloughed March 26 (before a voluntary layoff June 29), I have done a few small jobs as an independent contractor, a "tasker" for Task Rabbit. Which brings us to the big-box store. For a delivery to Stephen S., I went out to pick up a TV, a fan, a microwave and other items. It was supposed to be a simple thing. Pull up for contactless pickup, wait outside and they bring it right to you.
Well, that's a good one. I waited about 10 minutes before a worker came over. I gave him the order number and he told me that he could not fill that particular order and I would have to go around to the side of the building and enter the door over there.
I went to the side, but the door locked. So, I went to the back, no door, but stairs. After climbing the stairs, I saw another door, but it was also locked.
Back to the front of the store, where I saw (and I had noticed it before) a line of at least 50 people. I spoke with the worker at the door. He was surprised when I told him that another guy told me to go to another door, intimated that the other guy wasn't doing his job, and suggested I go to the back of the line and no to worry because it wouldn't take long to get me in.
So I go there, briefly, but I was a little flabbergasted, so I went back to the front and asked, "If this is supposed to be contactless pickup, then why am I waiting in line? Should I go back to the parking lot and wait for a worker who can do the job correctly?" The answer was yes, so that's what I did for a few minutes. Then I saw a customer come out of the store with products and get in the car that he had parked in a contactless pickup spot.
That seemed super odd. So I went back to the front, asked for a manager, waited for a few minutes. When the manager arrived, he suggested that I (ahem, don't know why others did not suggest this before) skip the line, walk straight through the front door and go to the store pickup line.
Long, long, long story a little shorter: The order was not ready — of course — despite a communication from the store to Stephen S. (who forwarded the information to me) confirming that the order was ready.
By now, after more than an hour of trying to figure out what was really happening, it was 7:30 p.m., with the store closing at 8.
I roamed around inside the store looking for a manager and found him. He went and did a little investigation and found that the payment for the order never went through and there was no way I was getting the products that night.
Well, this wasn't my TV, fan and microwave that I wasn't getting, so the hurt wasn't that bad for me. But what about Stephen S.? He was not up in arms or anything, but kind of amazed that something like this could happen.
We arranged to get the task done the next day, a Saturday, and succeeded with no trouble at all. Patience intact … somehow.
And now we get to the real reason for the story, and the payoff for anyone who has gotten through this jumbled, three-minute introduction.
I get to the drop-off spot, a UH dorm parking lot. And two boys, one who is the son of Stephen S., are there to get the goods. They're newcomers to the state and in 14-day quarantine, likely not allowed to go much farther than that parking lot. A TV would certainly come in handy.
They looked like athletes, so I asked, "Do you play sports." They said, "Yes, volleyball." Turns out both are newcomers from California to Charlie Wade's UH volleyball team. One is Logan Sharp, son of Stephen Sharp, a 5-foot-9 libero from El Segundo High The other is Jack Walmer, a 6-foot-3 setter from Mira Costa High.
And after I told Stephen that I am a sports journalist, he texted, "The stars align."
How could I not write about these guys? It's my job. Just like delivering those items.
Now That Ain't Workin'
Ah, that subhead is just a line from a song ("Money for Nothing" by Dire Straits) that popped in my head because it indirectly applies to this story. Remember the workers in the video, all upset that they are not rockers and, instead, stuck to a life of custom kitchen deliveries?
Here are three snippets of lyrics from that tune that came out in the early 1980s:
"We gotta install microwave ovens
Custom kitchen deliveries
We gotta move these refrigerators
We gotta move these color TV's"
"Now that ain't workin' that's the way you do it
You play the guitar on the MTV"
"And he's up there, what's that? Hawaiian noises?
Bangin' on the bongoes like a chimpanzee
That ain't workin' that's the way you do it"
Not that doing deliveries is hard. It's not at all. But it's not considered by most people to be quite as cushy as sportswriting. Ahh, but what do they know?
And that brings us to the final phase of this epic — the arrival of Logan and Jack. Time to shift to my other "skill." Let's hope that the people looking to read real sports stuck around for this more serious part.
Welcomed By A Rooster
Logan Sharp was warned about those "crazy roosters.
"I awoke my first morning in Manoa to the sound of a rooster welcoming me to Hawaii," he said. "Ironically, my family laughed at dinner before I left home as my father told us a story about a crazy rooster that used to terrorize at my uncle's house on the North Shore. The Rooster kept everyone up all night long crowing at the moon. I think that rooster moved to UH."
For Jack Walmer, the introduction to UH has been kind of crazy, too.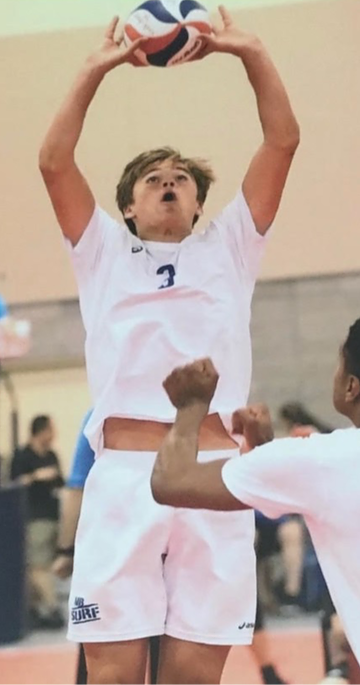 "My experience has definitely been an interesting one — just meeting people with masks on and interacting while having to social distance," he said.
Both are here to compete for starting roles, and both — like nearly every other college athlete — are waiting for a drastic slowdown or end to COVID-19.
"I chose Hawaii because the culture that surrounds the men's volleyball team is awesome and very unique due to the crazy amount of support and the pure determination to get better from the guys on the team," Sharp said. "My goal is to help the Rainbow Warriors win a national championship in any way I can and to compete to earn a starting spot as the libero. 
"The coaches have talked to me about working on covering more court and working on strong communication as the libero, which not only is an important part of the defense but is also a major contributor to the offensive system at UH. They have also been big on (me) working out to just get quicker and stronger because the college game is just faster because guys are hitting the ball harder."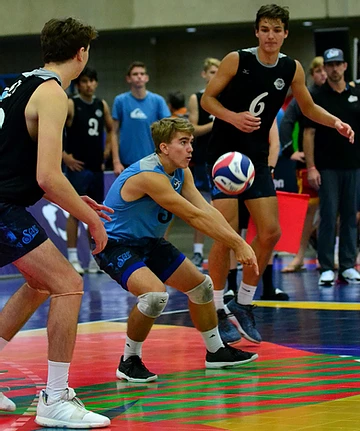 Sharp sees the well-roundedness in his game as his strongest asset.
"Having grown up in a competitive volleyball family with two older brothers (Ryan at NYU, and Nolan at Pepperdine) that both competed at a high level, I have been blessed with years of passing and learning to read the game at an early age," he said. "This has enabled me to read and adjust so that I'm in position earlier and ready to pass, cover, or defend."
Walmer and Sharp are in Volleyball magazine's Fab 50 high school players for 2020.
"The main goal for our team is to win a national championship, of course," Walmer said. "But for me personally, I would say it's just to continue to learn and improve my game.
"(I've been told I have a) high volleyball IQ, and that, especially as a setter, is a strength. I can't even remember the first time I started volleyball, so me just being around the game so long is a plus."
Like Sharp, Walmer has been asked by UH coaches to hit the gym for workouts.
"They've told me some technical stuff that I should fix, really just some fixable habits but nothing big," he said. "Also, just to continue to get stronger in the gym because in college and especially at UH, putting work in and lifting is key because we play back to back games."
The Rainbow Warriors were ranked No. 2 in the nation and off to a 15-1 start in 2020 before the season was canceled in March due to COVID-19. The finale in front of a sellout crowd at the Stan Sheriff Center was an amazing reverse sweep over No. 1 BYU, 20-25, 22-25, 25-22, 25-23, 19-17.
Sharp and Walmer are walking into a dream situation at UH, which has been on an upswing — with a national title a real possibility over the next few years. With patience (to get through the pandemic) and hard work and perseverance, they may be part of history some day. And signing autographs at big-box stores.