"Absolute truth is a very rare and dangerous
commodity in the context of professional journalism."
— Hunter S. Thompson
—
Author's Note: In honor of the great Raoul Duke, Bedrock Sports Hawaii takes a dip into political waters today while the temperatures are still fairly warm and soothing for a typical American. I was thrust into political observation one afternoon, when, as a 3-year-old without a care in the world, I saw that my mom stopped folding laundry, walked to the wall phone and went into a complete panic. She turned to the TV, full of emotion and disbelief. It was, of course, Nov. 22, 1963. That buzz and sense of overwhelming grief was still in the air that night when a handful or more of the neighborhood parents met at a house down the street to — I can only imagine — grieve and contemplate the future of our country. The kids were in the back and I remember it was a woodsy area that we played in. There was something important going on. The president had been shot and killed. The word "Oswald" was being thrown about and it was scary. I really didn't know what a president was, though. You know?
Almost five years after that November day before walking to school, I was playing on a swing-set when some friends talked about "Kennedy being shot and killed." At first, I thought it was a rehashing of history. But no, this time it was RFK and not JFK. All I could think was, 'What? How? Why?' Two months earlier, I felt that same sense of immediate dread when the words "Reverend Martin Luther King" were uttered over and over in the kitchen by my parents one night. I immediately wanted to know what a reverend was and why this one was so important for them to be talking about all of a sudden and then the bigger question: Why was he shot? Assassination was a bad word for me in those days, the baddest word I could imagine.
Since then, I've observed — albeit, from afar — presidents come and go. And I've seen the political pendulum swing back and forth. It doesn't make me an expert, and like everyone else, I have a political bent. But my intent here is to observe and share my thoughts. I can't promise that I won't grind any axes, but I can try not to.
Oh, and I do intend to borrow something from the late Hunter S. Thompson. He created the National Affairs Desk at Rolling Stone magazine and that was his catch-all term whenever he wrote about things like presidential elections and the Watergate scandal.
So, if I actually do continue writing about politics (and all bets are off on that) I want some kind of nomenclature for it to fit within the realm of this mostly sports website.
—
A lot of people don't like Donald Trump as a person. I am not one of them. I liked his TV reality show, and I used to kind of see him as a celebrity back in the 1980s, when he delved into ownership of the New Jersey Generals of the USFL.

But I did not vote for Donald Trump to be president in the 2016 election. I have my reasons and I am not going to delve deeply into them now. I do not want him as my president. But that is not the point.

Yes, there was a time when I was caught up in his possible wrongdoing with Russian help on the election. It seemed real and still does to an extent. But, it's now ancient history. I've moved on from that. Hey, maybe I was wrong and there was absolutely no wrongdoing. I don't know. You don't know. Or, to be nicer, I don't think you can know for sure.
So, if dumping on Trump is not the point here, what is?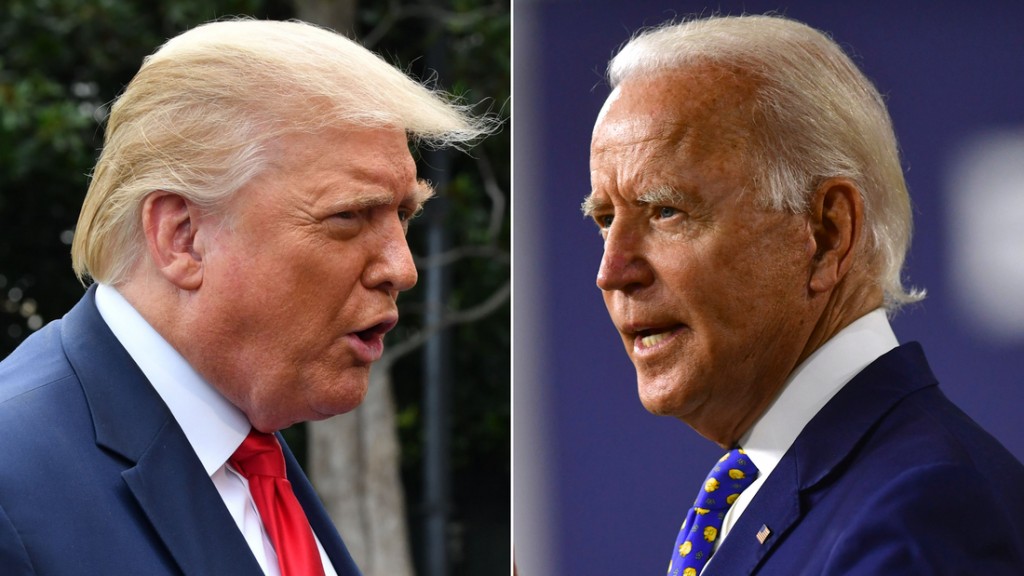 Well, this is a good time for a little wisdom from folk-rock legend Bobby Dylan:

"You don't need a weatherman to know which way the wind blows."
That's right.

And the weather right now is lining up for a Trump landslide victory. Well, I'm not going to try and brag before it comes true by saying, "You heard it here first."

But you kind of are hearing it here first. All of the talk shows on TV and radio are calling it a close race. Some have Biden slightly ahead. That kind of crap means nothing. Polls are just that. There is no result yet, so how can it be close? It's tied 0-0.

It's all about who comes out to vote. And that might not even matter this time. We'll be lucky if the election actually turns out to be a fair one. After all, there is no guarantee that the mail-in, COVID-19-induced system — which has never been done before in a presidential election — will work.
So, let's see. Hmm, who IS going to come out and vote? People disgruntled by Trump, for sure. But for every one of those people who can't stand our president, there is at least one (and probably two or three) who loves him or supports him or is going to vote for him.
How do I know that? Well, I don't KNOW it. But I feel it. That's the weather I'm picking up in our nation today.
The people who really don't want Trump are vocal and if you say anything at all good about him, they will get peeved. They don't see him as a human being. They want him out.
Hey, I do not support his presidency so I get that kind of thinking. I do not want him to be re-elected, but I also do not want him to be removed from office unless he deserves it — whether by being convicted of wrongdoing or voted out in democratic fashion.

But, you see, the vengeful thinking against Trump has also bred this kind of feeling that no matter what, he's going to be ousted in the election. I see that as a false sense of security.
I remember the protests against Trump right after the last election. They had a little bit of oomph. But those types of protests and rallies — aimed at removing Trump — are not happening now on this most important of times before the election.

Instead of a mob of organized and outraged citizens against the president, I see Shiny, Happy People whenever I take a trip to the store.

I truly believe that for all the fine, progressive and liberal people out there that I know, it's too little and too late this time around. Hey, and if the Russians are helping — and I'm not saying that they definitely are — they've had four years to improve their English grammar and make all the pro-Trump posts sound real. Haha, somebody is going to give me crap about that, but that's the way it goes, I guess.
So, to those who dislike (or something worse) Trump, I hate to be the bringer of bad news.

Remember, incumbent and popular presidents usually win healthily in re-election. What, Trump is not popular, you say? That's a good one. Like him or not, he's one of the most popular people this planet has ever known. Popular has nothing to do with being liked. Trump, probably, has been the most searched word the last four years.

He's got name recognition up the kazoo!! Or is that word supposed to be gazoo?

Now, let's take a look at Biden. Well, if you like his agenda, that's a really good reason to vote for him. My politics are a lot closer to his than Trump's. But is he an inspiring leader? Not to me, he isn't. Does he deserve my vote? We'll see.

Is he dull? Yes. Is he a firebrand that can rally the masses? No. Is he conjuring up a new way of life for America and showing that he is somebody to believe in, especially if you're dissatisfied with President Trump? Well, he's trying, but it's not coming across in waves of wisdom. Not even close.

Bottom line: I just don't see Joe Biden winning and becoming president, no matter who he is running against.
What sealed this thinking for me was a video on social media that I saw today. It was posted by Donald Trump Jr. and it was edited professionally to show the Joe Biden of today debating the Joe Biden of years ago. Ostensibly, It was made to illustrate how the former Senator and Vice President's position on various subjects has changed 180 degrees over time.

Well, when you edit clips of a video, you can make it look like anybody is saying anything at all. There is no real context and that makes the accuracy of what is being portrayed on this particular video completely suspect — in my mind, anyway.

Yet, of the 15,000 or zillion or whatever number of comments, I kept thinking I would be able to scroll down and find one that pointed out the obvious problems with the video's credibility.

Not one comment about the video being contrived!! Just amazing. Right? It's kind of like watching "Gilligan's Island" and believing that it's a documentary. Or, more insidious, going to Philadelphia to see the statue of Rocky and walking away with a warm heart because you got to pay tribute to that greatest underdog who became heavyweight champion of all time.
But almost all of the comments read something like, "Oh my God, why would the Democrats ever vote for someone so two-faced? I didn't like him before and now I know I would never vote for him." Etc., etc., etc.

And I scrolled down pretty far, unsuccessful in finding at least one person who didn't take the video at face value. Maybe there was some dissent further down that I didn't see.

It was scary that those comments went on and on and on like that. It really did seem like people were being duped to the reality of Joe Biden's stance back then vs. his stance now. Hey, but maybe that video was 100 percent accurate. What do I know? I'm just a sportswriter, right?

Lots of people will probably tell me to stick to my day job. But, I'll tell you what, if Trump wins in a landslide, I might just apply to be a weatherman.
---
ALSO AT BEDROCKSPORTSHAWAII.COM: Former Waialua Six-Sport Athlete James Strong — A Man Of Zeal — Is as Unsung As They Come
---
The Top 10 Most-Read Stories At BedrockSportsHawaii.com:
As of Oct. 8, 2020