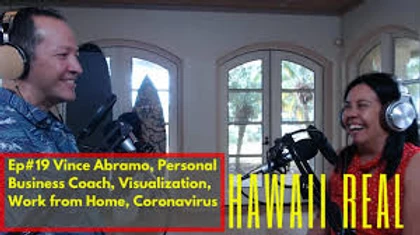 Two months after I did a video podcast with Io Keehu in December, Vince sat down with him for a much more entertaining and informative discussion. She is a life coach and business leadership trainer. From my observations, she specializes in conflict management. A little more on that later.
Vince's appearance came after she had just returned from the Filipino Women's League's medical mission to the Philippines in February. COVID-19 was in its early stages. So for those who want to check out the video of the bright, ebullient, caring and creative Superwoman, here you go. To me, it's awesome, but I am 100 percent biased.
Vince Abramo getting real on Io Keehu's Hawaii Real podcast.
One thing Vince has been trying to figure out, with not much success so far, is to rename the term "conflict management." She feels that the word "conflict" makes people want to immediately avoid it. But see, that kind of thinking is so counter-intuitive. Think about your job right now. Even if you love it, you probably dread some aspects where there is the proverbial butting of heads. Hard feelings that can last a while. Sound familiar at all? There are ways to get through those times. Vince knows. She's an expert and I'm spreading the word: bambooshoot.co.
And here is another interview she did a while back on the Team Lally audio podcast. That interview starts at about the 24-minute mark.
Eh, anybody got any ideas on renaming that aspect of her business? For starters, there's Harmony Despite Discord 101. Needs work for sure.