—–
Quarterback Jaron-Keawe Sagapolutele has been throwing darts, so to speak, on the Hawaii high school football field for two seasons now.
And now, only a sophomore, Sagapolutele has Campbell (6-2, 4-2 OIA Open) in prime position to make a playoff run.
Last Friday in a 49-21 win over Waianae, the 6-foot-4, 200-pound Sagapolutele set the all-time single-game school passing record with 450 yards in closing out the Sabers' regular season. On his 27-for-36 night, he also threw for five touchdowns.
For all of that, Sagapolutele is Bedrock Sports Hawaii's outstanding football player of WEEK 10.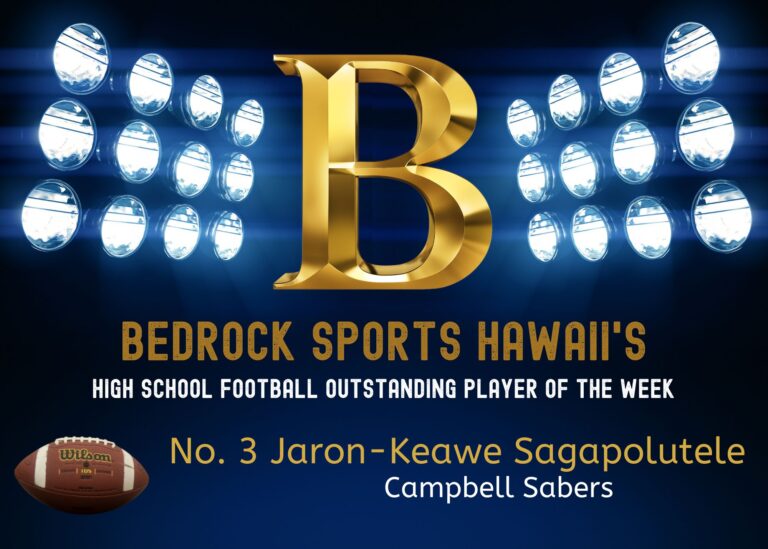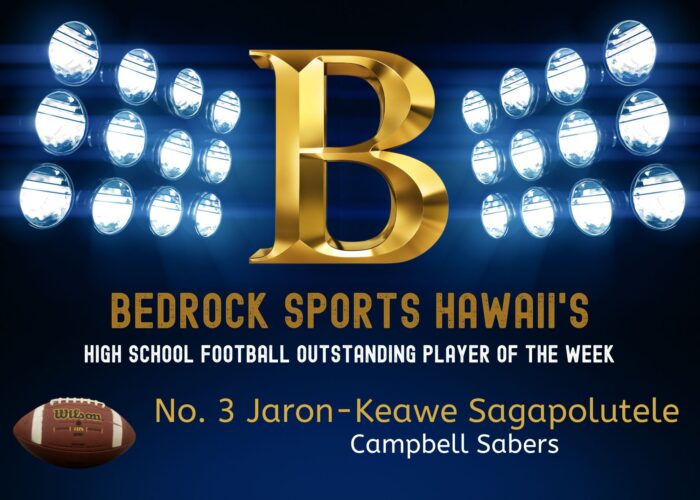 Next Friday, however, is the major test for Campbell. That's when the Sabers will play in the OIA Open semifinals against the loser of this Saturday's Mililani (6-2, 5-0) at Kahuku (7-2, 5-0) game.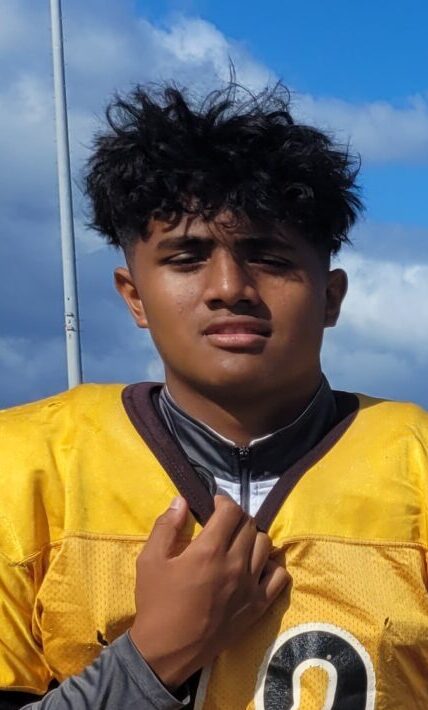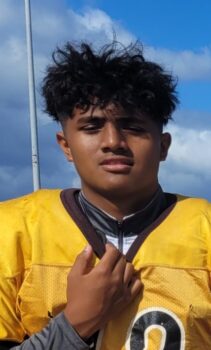 In Campbell's eight games, he has thrown for 2,377 yards with 23 touchdowns and six interceptions. In 2021 in five games as a freshman for Saint Louis II, he passed for 1,730 yards with 21 TDs and five picks.
"We expect that from him," Sabers coach Darren Johnson told the Honolulu Star-Advertiser's Jonathan Chen after the win over Waianae. "It's not like 'wow' when he plays like this. We expect him to do good things for us — that's why he's our guy right now."
Previous Bedrock Sports Hawaii players of the week this season are below.
>> WEEK 9: Aiea Junior Quarterback Ezekiel Olie Is Bedrock's Outstanding Football Player of WEEK 9
>> WEEK 8: A 'Tama-Of-All-Trades': Waipahu's Uiliata Can Throw, Too, And Is Bedrock's Outstanding Player Of WEEK 8
>> WEEK 7: 'Iolani Kicker Allison Chang Is Bedrock Sports' Outstanding Player Of WEEK 7
>> WEEK 6: Radford's Michael Hayslett Is Bedrock Sports Hawaii's Outstanding Player Of WEEK 6 (Sept. 14)
>> WEEK 5: Kamehameha-Hawaii's Michael Perry Is 2022's Third Football Player Of Week From Big Island (Sept. 8)
>> WEEK 4: Mililani Cornerback Jordan Fetu Is Bedrock's Outstanding Player Of WEEK 4 (Sept. 1)
>> WEEK 3: Honokaa's Uhane Mock Chew Is Second Straight Player Of the Week From The BIIF (Aug. 25)
>> WEEK 2: Keaau's Diego Pettypool Selected As Bedrock Sports Hawaii's Player Of The Week (Aug. 17)
>> WEEK 1: Mililani's Jabiel Lauvao Is First Bedrock Football Player Of The Week In 2022 (Aug. 10)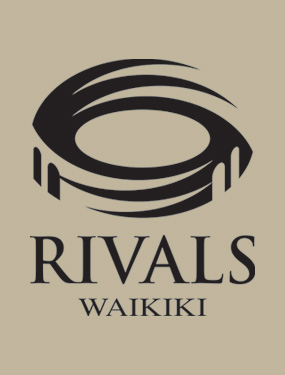 —–
ALSO AT BedrockSportsHawaii.com:
Bedrock Sports Hawaii's State Berth-O-Meter And Consenus Top 10 All In One Post
Bedrock Sports Hawaii Power 5s: Lahainaluna And Honokaa On The Way Up
RECRUITING: Maryland Offer In Hand, Tuli Tagovailoa-Amosa Steps In For The Injured Tama Amisone as Kapolei Starting QB
—–
Updated standings, all of the 2022 scores and stories, a master schedule, the Power 5s, and more: