The big sellout came May 5, 2020.
It's probably not the best way to describe it, but that's what it shall be called henceforth. That's the day I started this website, NickAbramo.com.
That's also the day I decided that I would embrace whatever name recognition I've got, which isn't much, and try to improve on it.
Honestly, I am a strong believer in letting the work do the talking. For instance, if I am a skilled writer (and the jury is pretty tough out there), then it's up to the work to shine. You either like what you read or you don't. The person who wrote it is secondary.
But now, though, I am blurring that a bit. My goal is to continue to try to write stories (post-voluntary layoff from the Honolulu Star-Advertiser) that I think people will want to read and to make them as enjoyable as I possibly can.
In this day and age, it's all about page views and social media and search engine optimization and so I took a tip from a colleague at TheHockeyWriters.com — a website I am a freelancer for — who said, "You have to sell yourself."
That was an "A HA!!!" moment if ever there was one. Three months earlier, there's no way I would have considered a website based on my name. Sure, I have an ego like everybody else, but the website name is not an ego thing. It's marketing.
Editor's note: Two lines (bear with me) from Rush's "Spirit of Radio" (have a listen; why not?) illustrate this marketing thing perfectly. For those who take to the dial:
1) Invisible airwaves Crackle with life Bright antennae bristle With the energy Emotional feedback On a timeless wavelength Bearing a gift beyond price Almost free
2) For the words of the profits Were written on the studio wall Concert hall And echoes with the sound of salesmen Of salesmen, of salesmen
And so now that the gloves are off, so to speak, expect to see the website name bombarding your inbox. I believe that the site will grow and improve and be a source of information that you will enjoy reading. If you don't feel the same, it's as easy as unsubscribing. Eh, you can still support me by remaining a subscriber and just deleting the emails. But give me a chance. That's all I ask.
I think I have something unique to offer. For 40 years, I've been in search of a journalistic truth (so to speak) and that's a selling point right there. Haha.
Today's offering, as the headline suggests, is about Ted Williams, the Hall of Fame and most iconic of all Boston Red Sox players.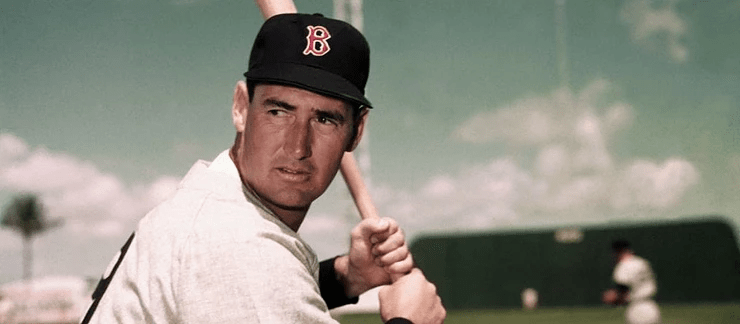 In 1986 at Fenway Park after a Boston vs. California Angels American League Championship Series game, I worked up all the courage I could muster and approached Williams, the Splendid Splinter, the last man to hit .400, who was dining with family and friends at a private club on the third base side high above the field.
He saw a 26-year-old kid and said, "I'm eating right now, but if you come back in a little while, you can sit and we'll talk. I was flabbergasted. I had heard he didn't grant interviews and there were a ton of stories out there saying he didn't get along with the Boston press. I had no idea what to expect.
And so I got that interview and wrote a story. I will share it with you, the reader, below, verbatim. And that's the thing. The story itself is nothing spectacular. I wrote another one from that ALCS that I'm a more proud of (from a writing standpoint) that I will also share below. But how lucky was I to even be there? Pretty lucky. At the time, I was a five-year veteran at the Marlboro Enterprise and Hudson Daily Sun in Marlboro, Mass. I covered high school sports mostly, but I had begun to occasionally cover the Red Sox the year before because the son (utility man Steve Lyons) of a former star athlete in Hudson (Dick "Itchy" Lyons) was on the team. And, if I remember correctly, he made a huge splash by hitting two home runs in his first major league game. That was my "in" — a local, suburban angle. Also, catcher Rich Gedman, who was from nearby Worcester, was also an story line that beckoned for my personal coverage.
Lucky, lucky, lucky. I didn't go to all of the games, but I could pick and choose, and that gave me the ultimate "in" — an auxiliary press box seat for the ALCS and World Series home games. I did not attend the postseason away games in California and New York.
So, sticking with the salesman theme — without further ado — from the way-back machine, I give you "A Modest Legend" and "Grass in Pocket" from October 1986:
SPORTS TO PONDER: A Modest Legend (October 1986)
By Nick Abramo
Sports Editor
Old baseball heroes never die. They just keep reminding you of their feats. That might be true for cult hero Bob Uecker, but it's not the case for former Red Sox slugger Ted Williams.
Williams was at Fenway Park yesterday for Game 2 of the American League Championship Series, and, when interviewed, he came across as a most modest man. He preferred to talk about the young players competing today rather than his own illustrious career.
"I get a great kick out of watching the young players today," remarked Williams, the last major leaguer to hit .400 — back in 1941. "But the game has changed a little bit, all because of television. The television people were on the field talking to players for an hour before the game started today. The game was played at 3:05 to fit television's time slot needs, and the sun was too low and brutal on the players." Williams is pulling for his old team with vigor.
"It's all even (1-1) and they're heading for California," he said. "It's great that the Red Sox tied it up today, but anything can happen from here on in.
"My greatest wish is that the Red Sox do it all, win the World Series. It's something they haven't done in over 70 years. They have a pretty good club."
Williams, whose thoughts about the hitting styles of Wade Boggs and Don Mattingly are recorded in a Sports Illustrated article earlier this year, revealed his feelings bout the recently completed batting title race (Boggs .357, Mattingly .352).
"I think the finish was kind of predictable," Williams said. "But both players did live up to their press notices."
Williams watched yesterday's game with particular interest in California rookie first baseman Wally Joyner, a lefty like Williams who clocked a home run to right field (Williams' favorite place) and took Red Sox right fielder Dwight Evans to the edge of the wall with another blast. "I said it today before the game," Williams said. "Joyner's one of the best looking young left-handed hitters I've seen in all my years in baseball."
But good enough to hit .400? "You might put a kid like Joyner on a list of people to possibly do it (hit .400)," he said. "He's got a great swing. Also, Boggs and Mattingly may be on their way. In three years, Joyner will be doing exactly the same things Boggs and Mattingly are doing right now."
But what about Ted Williams? In his own words, what were his greatest accomplishments?
"I'll let you decide that for me," he added, uncomfortable with the prospect of talking about himself.
Ted Williams, a man who lets his actions speak for themselves.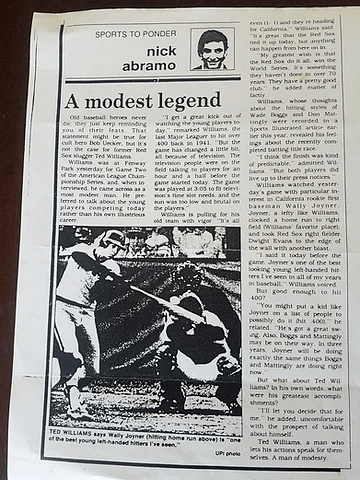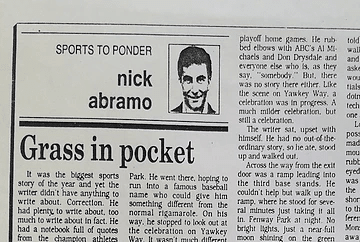 SPORTS TO PONDER: Grass in Pocket (October 1986)
By Nick Abramo
Sports Editor
It was the biggest sports story of the year and yet the writer didn't have anything to write about. Correction. He had plenty to write about, too much to write about, in fact. He had a notebook full of quotes from the champion athletes and a completed scorebook, and he had just witnessed the Boston Red Sox win the American League pennant for the first time in 11 years.
But the writer didn't want to use the same old lines with the same old cliches. And so he searched. And searched.
After the postgame interviews, the writer decided to journey to the "Pitcher's Mound," a private club for members of the Red Sox organization located inside Fenway Park. He went there, hoping to run into a famous baseball name who could give him something different from the rigamarole. On his way, he stopped to look out at the celebration on Yawkey Way. It wasn't much different than the hoopla on Causeway Street when the Celtics won the 1986 NBA Championship. Thousands of screaming fans, yelling "Red Sox, Red Sox, Red Sox." It was chaos. The writer thought about doing a piece on fan reaction, but shied away from it when he saw a drunken fan threaten an ABC cameraman.
And so he went to the confines of the "Pitcher's Mound," where members of the media had been invited for all four playoff home games. He rubbed elbows with ABC's Al Michaels and Don Drysdale and everyone else who is, as they say, "somebody." But there was no story there, either. Like the scene on Yawkey Way, a celebration was in progress. A much milder celebration, but still a celebration.
The writer sat, upset with himself. Ha had no out-of-the-ordinary story, so he ate, stood up and walked out.
Across the way from the exit door was a ramp leading into the third base stands. He couldn't help but walk up the ramp, where he stood for several minutes just taking it all in. Fenway Park at night. No bright lights, just a near-full moon shining on the green walls. The only noise was that of a giant vacuum cleaner in the center field bleachers. Television technicians stood near the first base dugout, packing away their equipment.
The time was 12:51 a.m., almost two hours after the Red Sox had pulled off one of the most amazing series comebacks in baseball history.
A sudden urge came over the writer. An uncontrollable urge to walk on the field. And although something inside told him not to do it, the writer walked down the aisle steps and onto the field. If anyone asked what he was doing, he would have shown his credentials and simply said, "I'm doing a story on the television technicians over there." But no one asked.
Looking as professional as possible, the writer slowly made his way to the pitcher's mound, where he stood on the rubber for a few seconds and eyed home plate. The mound was higher and a lot closer to the plate than he thought it would be. A short while later, he moved on to the batter's box to get a different perspective. The Green Monster seemed like a mile away, and the right field bleacher were almost out of sight.
The writer didn't want to blow his cover, so he walked back to the aisle on the third base side. But before reaching his destination, he did something that no one else did last night. He reached down, pulled up a small patch of grass and dirt and put his new-found treasure in his pocket.
The writer wasn't upset anymore. He finally had a story.