You don't often hear a crowd of sports fans cheer for a referee, but if you want to you can be a part of just that in September 2021 when four referees are inducted into the Hawaii Sports Officials Hall of Fame.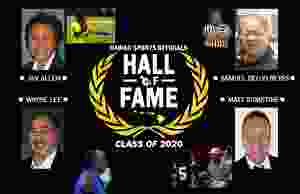 With this year's inductees, the HSOHOF now has 19 members. The Class of 2020 HSOHOF inductees are Jan Allen, Samuel Delos Reyes, Wayne Lee and Matt Sumstine. They will be celebrated for their long years of service toward helping Hawaii's sporting community at an induction ceremony Sept. 5., 2021.
Organizers are holding off induction to more than a year from now due to the COVID-19 health crisis. According to HSOHOF President Cal Evans, nominations are being taken for the Class of 2021 and both classes will be inducted at the same time.
>> Jan Allen has been a soccer official for more than 46 years in youth leagues adult semi-pro competition and at the collegiate level, according to an HSOHOF news release. She is a member of the National Federation Soccer Rules Committee and the Hawaii High School Athletic Association soccer tournament committee. In addition, she founded the Hawaii Scholastic Soccer Federation Referees Association and served as president.
>> Samuel Delos Reyes officiated 33 years with the Hawaii State Basketball Officials Association and worked nine high school state title games, according to the release. He was also hired by the Western Athletic Conference (men) and Big West Conference (women) to work collegiate games. In 1989, he became the commissioner and assignor of the HSBOA and ran that organization for 15 years.
>> Wayne Lee is among the leaders in volleyball officiating as well as teaching and mentoring others in a 30-year career, according to the release. He currently works high school and collegiate matches and serves as the Aloha Region Officials chair and HHSAA volleyball officials coordinator. He worked with the University of Hawaii to establish that all officials be certified as USA Volleyball Junior or National referee status prior to becoming a collegiate official.
>> Matt Sumstine, a former on-field official, is Hawaii's first to serve as an NFL replay official, according to the release. Prior to that assignment, he worked as a Western Athletic, Big 12 and Mountain West football on-field and replay official since 2005. He is also active as the HHSAA coordinator of officials and is the co-founder of many clinics throughout Hawaii. He is often asked to serve as a clinician in Texas and as far away as American Samoa. In addition, Sumstine runs a website dedicated to the education of football officials.
HAWAII SPORTS OFFICIALS HALL OF FAME INDUCTEES
Class of 2020
> Jan Allen, soccer
>> Samuel Delos Reyes, basketball
>> Wayne Lee, volleyball
>> Matt Sumstine, football
Class of 2019
>> Louis O. Fuentes Jr., basketball
>> George Gusman, football
>> Dave "Koko" Mahukona
>> Herbert BS Minn
>> Wayne Ohashi
>> Joe Ornellas
>> Herbert Paleka, Jr.
Class of 2018
Jimmy Aiona, basketball
>> Roy Chong, football
>> Earl Galdeira, football
>> Leilani Okuda, softball
>>Pat Tanibe, basketball
>>Ray Verdonck, wrestling
>> Frank White, football
>> Hide Yamashita, softball and baseball