—–
It's not often you can find a player of the game on a losing team. Or player of the week.
But Bedrock Sports Hawaii found somebody deserving on a losing team for its WEEK 15 outstanding football player honor.
PAC-5's Blade Kaululaau, a two-way standout for the Wolfpack at running back and linebacker, earned the recognition by doing a little bit of everything in a 38-6 loss to Nanakuli in the Division II first round of the First Hawaiian Bank/HHSAA Football State Championships.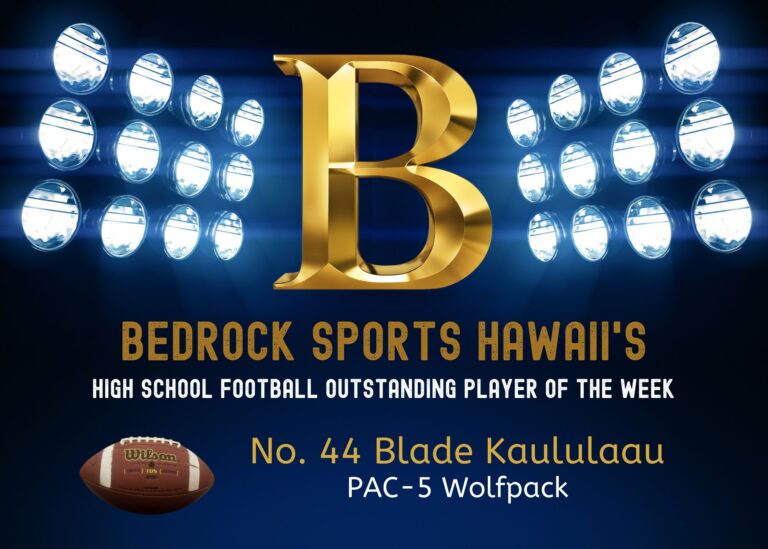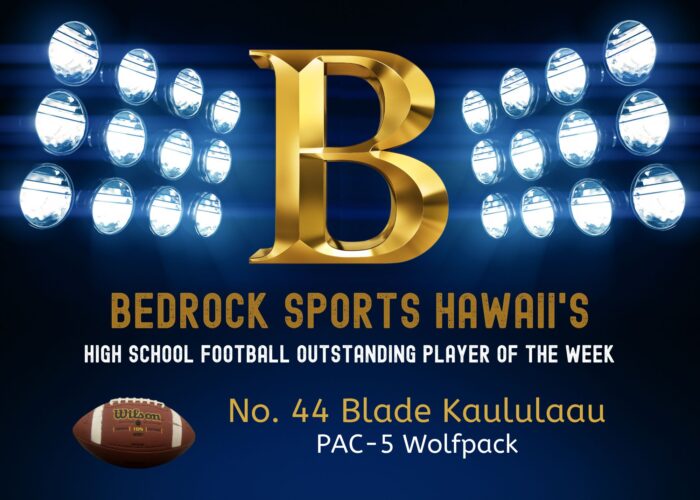 The 6-foot-1, 220-pound senior had a tackle for loss among his 13 stops, forced and recovered a fumble and also had an interception with a 25-yard runback.
Offensively, Kaululaau had 10 carries for 39 yards, including a 4-yard touchdown, and one catch for 13 yards.
The Wolfpack (3-5), who were playing in their second state tournament game in history, did not advance and their season is over.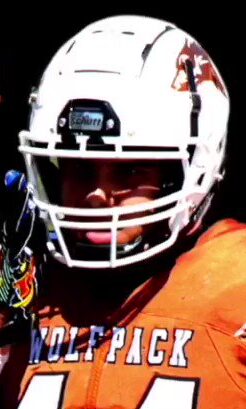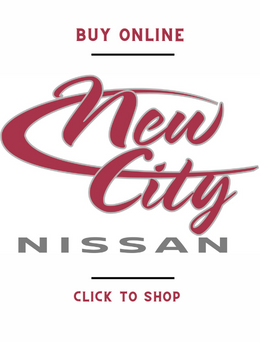 Story links for this season's previous Bedrock outstanding players of the week are below.
>> WEEK 14: No games
>> WEEK 13: After Kicking The Title-Winning Field Goal, Kapaa's Christopher Rapozo Is Bedrock's WEEK 13 Outstanding Football Player (Nov. 4)
>> WEEK 12: Damien's AJ Tuifua Is Bedrock's Outstanding Football Player For WEEK 12 (Oct. 27)
>> WEEK 11: Bedrock's Outstanding WEEK 11 Football Player Kayman Lewis Of Roosevelt Finishes High School Career In Style (Oct. 20)
>> WEEK 10: Campbell sophomore Quarterback Jaron-Keawe Sagapolutele Is Bedrock's Outstanding Football Player Of WEEK 10 (Oct. 13 )
>> WEEK 9: Aiea Junior Quarterback Ezekiel Olie Is Bedrock's Outstanding Football Player of WEEK 9 (Oct. 6)
>> WEEK 8: A 'Tama-Of-All-Trades': Waipahu's Uiliata Can Throw, Too, And Is Bedrock's Outstanding Player Of WEEK 8 (Sept. 30)
>> WEEK 7: 'Iolani Kicker Allison Chang Is Bedrock Sports' Outstanding Player Of WEEK 7  (Sept. 4)
>> WEEK 6: Radford's Michael Hayslett Is Bedrock Sports Hawaii's Outstanding Player Of WEEK 6 (Sept. 14)
>> WEEK 5: Kamehameha-Hawaii's Michael Perry Is 2022's Third Football Player Of Week From Big Island (Sept. 8)
>> WEEK 4: Mililani Cornerback Jordan Fetu Is Bedrock's Outstanding Player Of WEEK 4 (Sept. 1)
>> WEEK 3: Honokaa's Uhane Mock Chew Is Second Straight Player Of the Week From The BIIF (Aug. 25)
>> WEEK 2: Keaau's Diego Pettypool Selected As Bedrock Sports Hawaii's Player Of The Week (Aug. 17)
>> WEEK 1: Mililani's Jabiel Lauvao Is First Bedrock Football Player Of The Week In 2022 (Aug. 10)
—–
ALSO At BedrockSportsHawaii.com:
FOCUS ON FOOTBALL: With Old-School Backfield, Nanakuli Thunders Past PAC-5 Into State D-II Semifinals
WATCH: 24 Videos Of Waipahu's 49-41 D-II State First Round Victory Over Kapaa
—–
The season as it unfolds: